Yes, you read the headline correctly: 3D PRINTING BEAUTY. A graduate named Grace Choi has created the ultimate in 3D printers: a printer that enables the user to select a colour from any image, computer file or photographic source in order to turn it into a cosmetic product.
Ever wondered what's lurking in your lipstick or buried in your bronzer? Ponder no more, for the ThinkDirty app is at your service.
We want you to Think Dirty. from Think Dirty on Vimeo.
As cosmetics manufacturers aren't held to the same stringent labeling rules and standards as food or drug products, nasties can slip under the radar – an issue identified and conquered by Lily Tse, an entrepreneur from Toronto. The app lists over 68,000 products from North America and Europe along with a "Dirty Meter" rating from 1 to 10 (10 being the most filthy nasty) with the aim of laying the contents of cosmetics aisles bare. To retrieve the information, you simply need to scan the product barcode or search from a product list. The app will give a filth rating and suggest a cleaner product if the one before you is on the scuzzy side of things. You can also make your own product lists and get an average dirtiness score for items in your makeup bag. This is set to be big.
Culinary capitalists Sam Bompas and Harry Parr in collaboration with NOWNESS have yet again blurred the boundaries between food and science beyond the imagination of the mere mortal by presenting a short video exploring the unexploited electrical possibilities of the mere pickle.
British beauty powerhouse Barry M have tapped into the underground talent of Veronika Vesper: an upcoming singer songwriter from London. A new variety of inspirational creative and a selfless performer, Veronika has collaborated with the brand to create a series of how-tos and guides through her key beauty looks.
What better way is there to wave goodbye to 2013 than with a A to Z of winks courtesy of the folks at iD Magazine?
Customer feedback is an integral part of brand building in the modern world. With the ongoing competition between independent and mass market retailers, small scale design studio Upwell decided to take matters into their own hands by harnessing and preying upon the brand power of the biggest homeware stockist in the world: IKEA.
Allow me to introduce you to the brainchild of entrepreneurs Ron Alvarado and Matt MacDonald: FICKS. A cocktail fortifier that – wait for it – is said to ward off all signs of a hangover WHILE you drink using a mixture of natural additives.
To celebrate the launch of the Sony 4K TV featuring an 8 million pixel display the brand took the initiative to explode 8 million flowers into the atmosphere (see what they did there?) over a hopefully suspecting village high up in the mountains.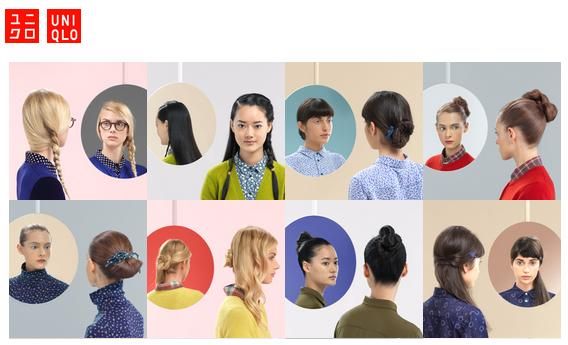 Japanese retail giant UNIQLO have launched a revolutionary microsite under their Lifetools umbrella entitled
Uniqlo HairDo
. The branch out aims to provide animated GIF guides to inspire the matching of hairstyles with Uniqlo outfits.
Clotheshorse turned designer turned editor: is there anything she doesn't do? Whether you love or hate Kate, there's no denying she's a high-flying businesswoman. Having announced the imminent resurrection of her Topshop line, Cokate has now been named as Contributing Fashion Editor of powerhouse publication UK Vogue.